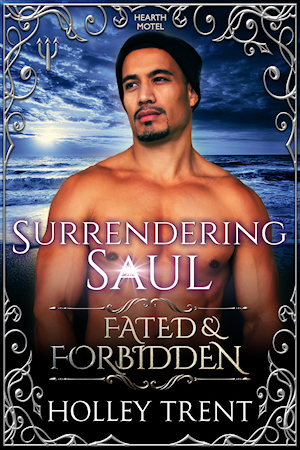 If Saul Ade had known that stepping into his sister's life would make him a player in the goddess Allendra's unforgiving game, he would have never left the shadows. If he doesn't accept the mate she has chosen for him by the rise of the next Blood Moon, the Sídhe will become human. Unfortunately, the woman he must make his love is a mermaid who once tried to drown his sister's human best friend. If he'd wanted a mate at all, reckless Laurel O'Cuilinn wouldn't be it.
Laurel's devastated to learn that Saul would rather cede Allendra's challenge than to be with her, but she's too practical to sulk. Four weeks isn't much time to make Saul cast aside his grudges, and she'll do what she must to help the Sídhe retain their magic—even if it means turning on some of the mermaid charm her fated mate finds so repugnant.
Allendra's not the only one who can play games. But unlike the goddess, Laurel plans to play for love—not with it.
Buy from Amazon or read free with Kindle Unlimited
---
Surrendering Saul is a FATED & FORBIDDEN collection story set in the HEARTH MOTEL series. It can be read on its own, though the story does contain HEARTH MOTEL series spoilers.
Other HEARTH MOTEL Stories:
–Prince in Leather
–Unwrapping Mr. Roth (holiday stand-alone story)
–Knight in Leather